Bono The Complete Solo Projects Volume 1 – 5
Bono – The Complete Solo Project
2007/ Mp3 various bit rates / Rock / Pop
I'm not a huge fan of U2 although I must confess to liking them in the early days. They then had a post punk aesthetic and were making some interesting music. As time progressed though, and as they became commercial ogres and built a financial empire that needed to be maintained, the music seemed to get progressively more bloated and, aside from the odd decent track, far less interesting.
And this guy Bono has an ego the size of the universe. The little chap thinks he can cure all of the world's ills single-handedly! Check out a recent South Park episode ( Season 11 Episode 09 "More Crap") where Mr Savetheworld got a bit of a kicking!!
Saying that, there is some interesting stuff here in the vast collection of Boner solo. The sound quality is excellent too.
Thanks to the original compiler for the notes etc … which I have not edited.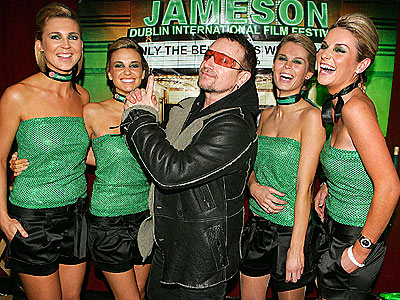 Bono meets four cylon clones!
BONO SOLO THE COMPLETE SOLO PROJECTS OF BONO VOLUME ONE
Manufacturer: Unknown
Catalog: BONO 971001
Matrix: BONO
Barcode: None
Complete Show: NA
Format: 1C
Released: Unknown
(52:31)
1. In A Lifetime
2. Hallelujah
3. Billy Boola
4. Save The Children
5. Silver And Gold
6. Let The Good Times Roll
7. Tomorrow
8. In The Name Of The Father
9. Can't Help Falling In Love
10. I've Got You Under My Skin
11. Two Shots Of Happy, One Shot Of Sad
12. One
13. Give Me Back My Job
Source:
1. Clannad's 'Macella' album
2. 'Tower of Song: A Tribute to Leonard Cohen' album.
3. 'In the Name Of The Father' soundtrack
4. 'Inner City Blues: A Tribute To Marvin Gaye' album.
5. "Where The Streets Have No Name" single.
6. Quincy Jones' 'Le Q's Juke Joint' album.
7. 'Common Ground' compilation album.
8. 'In The Name Of The Father' soundtrack.
9. 'Honeymoon in Vegas' soundtrack.
10. Frank Sinatra's Duets' album
11. "If God Will Send His Angels" single.
12. 'Childline' album.
13. Carl Perkins' 'Go Cat Go' album.
Sound Quality:
Very good to excellent studio.
Comments:

Color cover. This bootleg is a collection of recordings from other CDs and LPs. The sources of the song were poorly printed and are very hard to read (light red on red print). The cover features a picture of Bono sitting in a chair with a guitar in his hands. On the back is a picture of Bono in his Mac Phisto look. The CD is a black picture CD, featuring Bono coming out of the dark and the word 'SOLO' in big orange print. Inside are many pictures of Bono from past to present. "Two Shots Of Happy, One Shot Of Sad" has a live intro in what can be termed as "Vegas-style" with Bono stating, "Hello Los Angelos…" The version of "One" is very cool, with Bono singing with Michael Stipe of R.E.M.. "Give Me Back My Job" is from Carl Perkins' 'Go Cat Go' and features Carl Perkins, Johnny Cash, Willie Nelson, and Tom Petty. Overall, a nice CD.
BONO THE COMPLETE SOLO PROJECTS VOLUME TWO
Manufacturer: Unknown
Catalog: BCD980131
Matrix: BONO 2
Barcode: None
Complete Show: NA
Format: 1CD
Released: 1998
(72:48)
1. Sweet Fire Of Love [5:19]
2. Perfect Day (Male Version) [3:48]
3. Slow Dancing [4:02]
4. One [6:28]
5. Miss Sarajevo [5:08]
6. Dreaming With The Tears In My Eyes [3:40]
7. Jesus Christ [3:15]
8. I'm Not Your Baby [5:53]
9. Testimony (With Robbie Robertson) [4:54]
10. Do They Know It's Christmas? [3:55]
11. Purple Heart [4:26]
12. Always Forever Now [6:22]
13. Christmas (Baby Please Come Home) [2:24]
14. Elvis Ate America [3:05]
15. Slug [4:42]
16. Your Blue Room [5:27]
Source:
(1, 9): Robbie Robertson's 'Robbie Robertson' album. 1987
(2): UK charity single. 1997.
(3): "If God Will Send His Angels" single. 1997.
(4, 5): 'Warchild' album. 1996.
(6): Jimmy Rodgers tribute album. 1997.
(7): 'Folkways: A Vision Shared' album. 1988
(8): 'The End Of Violence' soundtrack. 1997.
(10): 'Band Aid' charity single. 1984.
(11): T-Bone Burnett's 'Talking Animals' album. 1988.
(12, 14-16): Passengers' 'Original Soundtracks 1′ album. 1995.
(13): 'A Very Special Christmas' album. 1987.
Sound Quality:
Excellent studio.
Comments:
Tracks 1 and 9 also feature Robbie Robertson. Tracks 2 and 10 and feature many other artists. Track 3 features Willie Nelson. Tracks 4 and 5 feature Luciano Pavorotti and Brian Eno. Track 8 features Sinead O'Connor. Track 11 features T-Bone Burnett. Most of the other tracks feature the entire band also. This is a nice collection of tracks by one or more members of U2. I don't know why this compilation is called BONO THE COMPLETE SOLO PROJECTS VOLUME TWO. In my opinion, a better title for this CD would have been: U2 – DUETS II. The entire band is involved on all but three tracks of this CD. Most tracks are easy to find on official CDs but it's nice to have them all together so you don't have to buy an entire album for only one or two U2-related tracks. This is still an excellent-sounding collection of U2 (and-U2 related) tracks for the people who do not yet own all of these tracks. It's a nice CD with some music that you will only find on tribute albums or compilations. Unfortunately, it doesn't seem to have a barcode or manufacturer. There are some slight errors on the tracklisting, but the above should be correct.



BONO THE COMPLETE SOLO PROJECTS VOLUME THREE

Manufacturer: Unknown
Catalog: BCD980131
Matrix: BONO 3
Barcode: None
Complete Show: NA
Format: 1CD
Released: 2000

1. Drowning Man (Madelyn Iris feat. Bono)
2. Staring At The Sun (acoustic from Rotterdam 12/8/97)
3. Lean On Me (Kirk Franklin feat. Bono)
4. Re-Wired (Jeep Grrlz Wise Ass Remix)
5. Mothers Of The Disappeared (a capela)
6. One (acoustic from Netaid 19/10/99)
7. Mothers Of The Disappeared (Crayon Remix)
8. New Day (Wyclef Jean feat. Bono)
9. Don't Take The Guns To Town (Johnny Cash Tribute)
10. Miami (with Allen Ginsberg)
11. All I Want Is You (live Omagh tribute 11/11/98)
12. North And South Of The River (live Omagh Tribute 11/11/98)
13. Sunday Bloody Sunday (The Edge live in Kosovo 23/9/97)
14. The Ground Beneath Her Feet (for Salman Rushdie)
15. Mother Of God (english)
16. Mother Of God (spanish)
17. Intervew with Bono on Netaid

Sound Quality:
Excellent studio.

BONO SOLO THE COMPLETE SOLO PROJECTS OF BONO VOLUME FOUR

1 – Bono and the edge – all i want is you (4:18)
2 – The ground beneath her feet ( (4:19)
3 – Sweet jane ( with lone justice) (3:59)
4 – wild irish rose (from movie) (3:51)
5 – Slide away ( with michael hutchence) (4:24)
6 – Air suspension & bono – mocean (3:47)
7 – Bono & the edge – she's a mystery (1:26)
8 – U2 – springhill mining disaster (3:45)
9 – Just ask (rare acoustic demo) (4:16)
10 – Bono and the million dollar hotel (5:37)
11 – One (live at the millenium ball) (7:56)
12 – Wyclef jean & bono – new day (4:44)

BONO SOLO THE COMPLETE SOLO PROJECTS OF BONO VOLUME FIVE

1 – Stuck in a Moment – Bono and The Edge (3:44)
2 – Misere – Bono and Pavorotti (4:15)
3 – What is Going On – Bono and Chris Martin (3:58)
4 – Falling at Your Feet – Bono and Daniel Lanois (3:41)
5 – L Incontro – Bono and Andrea Bocelli (4:54)
6 – Stay – Bono and Graig Armstrong (5:39)
7 – Jump Start – Bono (2:46)
8 – One – Bono (4:56)
9 – Children of the Revolution – Bono and Gavin Friday (2:36)
10 – Joy – Bono and Mick Jagger (4:42)
11 – Beat on the Brat – Bono (2:24)
12 – The Hands that Built America – Bono (3:58)
13 – Ave Maria – Bono (4:01)
14 – If You Wear that Velvet Dress – Bono and Jools Holland (6:16)
15 – American Prayer – Bono and the Wheaton College Choir (5:34)
16 – Summer Wine – Bono and The Coors (3:56)
17 – When the Stars Go Blue – Bono and The Coors (4:21)

Here she be:
http://rapidshare.com/files/80904280/BO1.part1.rar
http://rapidshare.com/files/80905576/BO1.part2.rar
http://rapidshare.com/files/80909665/BO2.part1.rar
http://rapidshare.com/files/80913737/BO2.part2.rar
http://rapidshare.com/files/80918038/BO3.part1.rar
http://rapidshare.com/files/80922725/BO3.part2.rar
http://rapidshare.com/files/80922847/BO3.part3.rar
http://rapidshare.com/files/80928299/BO4.part1.rar
http://rapidshare.com/files/80933134/BO4.part2.rar
http://rapidshare.com/files/80938689/BON5.part1.rar
http://rapidshare.com/files/80943840/BON5.part2.rar
http://rapidshare.com/files/80949212/BON5.part3.rar
Big thanks to the original poster
3 Comments »
what is pwd , please

thks

i take it for one title cd 1 halleluyah

thx so much

Comment by Anonymous | December 7, 2008

Oops!

PW should be jkaleido

That's jkaleido

Any problem, let us know!

Comment by stupid and contagious | December 7, 2008

no , it doesn't function

thanks for your response

see you later
and thx for the good pw

Comment by Anonymous | December 7, 2008