For Killian, who's developed a preternatural obsession with this hot Brit hotty!
That's all well and good, until he starts asking Mrs K to speak in a posh Brit accent!!
British actress Jaime Murray, who will be familiar to Hustle fans here, turns up in episode three of the new season of Dexter and plays a prominent role in Dexter's life for the rest of the series. We caught up with her to find out what it is about her character that appeals so strongly to the serial killer, and how she has adjusted to life in LA.

What is Lila like?
Lila is the polar opposite of Dexter. Whereas he is completely repressed and quite shut down, she doesn't have any boundaries. She is very in your face, very brash, very pushy. And she is very challenging to him.
In order to hide the truth about his dark secret, that he is a murderer, he pretends to be a drug addict, and he has to go to a Narcotics Anonymous meeting to keep his cover. And he meets her there, and she becomes his sponsor.
Of course, he isn't really an addict in the traditional sense. The language of addiction enables him to talk about his dark side and the forces that compel him to kill. Even though he is lying, there is an authenticity and an intimacy, the audience is allowed a window into his inner world, and his inner turmoil.
My character has a very different relationship with him than anybody else in the show. He sees something in her which makes him feel less of a freak, and she recognises the freak in him that she is. She is drawn to his dark side and so they have this slightly disturbing, dangerous relationship. She doesn't suspect anything.
How does Rita react?
Rita is the perfect girlfriend for the sweet kind Dexter. Audiences want to protect her and protect him, and they do not like this girl coming in and being in his life, because actually maybe she is the perfect girl for his more dangerous side.
How did the role come about?
I was filming Hustle in America, we did an episode in Vegas and one in LA, so I thought maybe I'll stay around for a bit and see what is going on. I did a pilot for CBS and then I got Dexter.
It was rumoured your Hustle co-star Robert Vaughn helped by singing your praises to every US producer he met…
Robert Vaughn is the most generous amazing person ever. He sings my praises to me. He is so sweet.
Was the character of Lila created as British, or was that decided when they cast you?
They fell in love with the idea of having a British character. It is an unusual, quirky show. All the characters have little quirks. Miami is a very multicultural place.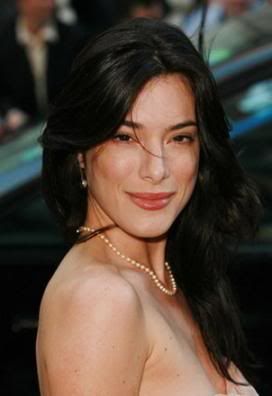 The show is pretty gruesome…
You get your head around it. When I was a kid I did work experience at a hospital, I was given a tour of a hospital when I was on a French exchange and I was led into a room. I started to see stars and the room started to swim and I realised that I would never be a doctor. I think I would be very good pretending to be a doctor but I wouldn't be able to stomach the reality.
How do fans of the show react to you?
When people see me in the street they are such fans of the show they get very excited, they either tell me that they love me or they love to hate me.
Have you met any of the other English actresses in Hollywood?
I'll be in a casting and I'll hear an English accent and I will spring up and introduce myself. We'll exchange emails and end up getting together and there is a real camaraderie. You are a long way from home and you are a long way from your family and friends. Suddenly you will see this English girl waiting to go in, and my heart goes out, she's probably searching for PG Tips and Marmite.
The show has some steamy sex scenes. Was that okay with you?
There is something unusual about being in a state of undress surrounded by 50 people fully clothed people around, predominantly men. It would be abnormal if I didn't feel exposed. But if I am in a scene with another character and there is a dynamic going on between us two, it's an acting challenge. The challenge may be for whoever I am dating at the time, but as an actor I don't necessarily have a problem with that. I wouldn't necessarily want to make a career of it.
I hear you have bought a dog for company…
I love Lulu. When I first got to LA, everybody has dogs, they are dog crazy, there are dog boutiques. I have never been a dog person. I am very fastidious. I used to touch a dog, say how lovely and then wash my hands straight away. After being there for a year, I thought I really need a dog.
LA is an industry town – you are there to work. You don't really walk anywhere in LA. I'd drive to wherever I was going, then come back. I know all my neighbours, I know the names of their dogs, I walk around the streets where I live. It's really pretty, the sky is always blue. I kind of feel grounded in a way because of this little dog that I have and yeah I cuddle up to her. I go hiking with her, now I have a reason to go outside on sunny days.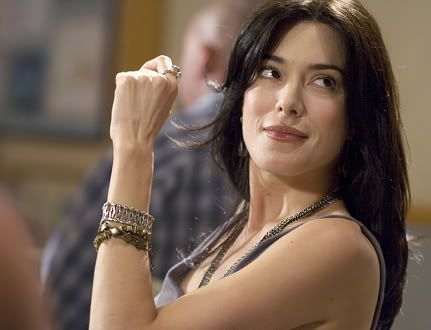 Have you ever been starstruck?
When I came back to the UK, I did This Morning with Philip Schofield, and when I was coming back on the aeroplane I was quite excited and nervous about meeting him because growing up, I had a bit of a crush on Philip and I had a bit of a crush on Gordon the Gopher.
What would you do if you were Prime Minister?
I'd invest in an environmentally friendly transport system.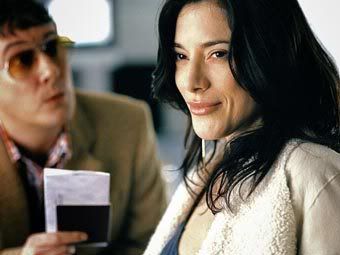 Tell us something surprising about you.
I love antiques. The antiques and the flea markets are amazing in the States. I even go to estate sales, which are when someone has passed on or go bankrupt, so they are selling the estate. I think it is the actress in me, you know, the voyeur, it's a bit like someone has left the room and you are allowed to open all their drawers. I like looking at old things.
Are you in the next series of Hustle?
I've not come back for the fifth season. Scheduling wise, this time it didn't work. Logistically it didn't work, but I loved working with those guys and getting that opportunity. There is talk of a film that is in the pipeline. I would love to do that. She is a great character.
Have you ever met the other Jamie Murray?
I met him the other day. We got together and we were giggling about when he googles himself, he gets me, and vice versa. He was lovely. We used tennis balls soaked in red paint, we batted them against a canvas and created this artwork together which we both signed and we are going to auction it off on the FX website to raise money for the blood donation charity.